I'm a little late this week because I spent a few days unwinding in Charleston. What a beautiful city! Art, architecture, history, ocean breezes, little shady parks, swings by the water, cobblestones, rooftop bars and even a creepy old slave market. And food. And wine. And mild weather. It was a perfect couple of days.
Dayna Shock was charged with putting together her daughter's class's contribution to the silent auction at her school. She and I put our heads together and came up with a certificate for a surf and turf dinner of lobster tails and filet mignon. All Dayna had to do was throw it in with a few other seafoody items to make a presentation. Maybe a little plastic bucket and shovel? Nope. Not Dayna. She and her husband Sam came up with this instead: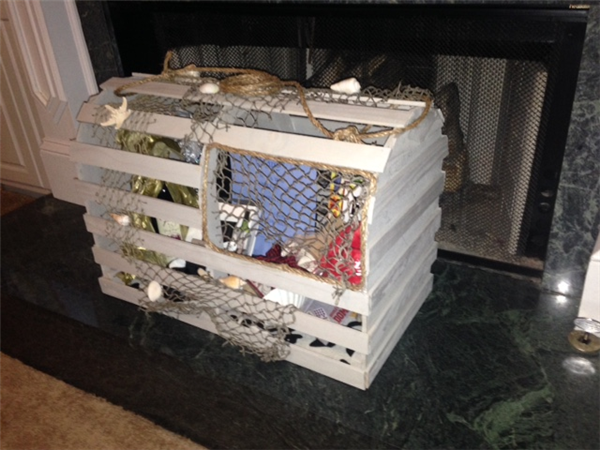 A homemade lobster trap! Filled with all kinds of treasures from the sea (and the vineyard). I am humbled by my talented customers.
Joe Scripture is out seeing the country this week and sent me a few photos. This one is of honeysuckle oysters he found at the Harbor Fish Market in Portland, Maine.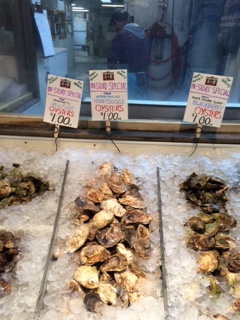 I can't wait to hear if they really taste like honeysuckle! I love getting your travel seafood photos. It's like modern-day postcards.
In Seafood News
Although I don't sell any seafood products from Japan, people often ask me about the status of the Japanese seafood supply. As you probably remember, March of 2011 was not a good year to be a Japanese fishermen. It was then that Japan suffered an earthquake, a tsunami and a nuclear disaster, all of which gravely affected the seafood supply in the Pacific. The earthquake and the resulting tsunami seriously damaged the areas of the Japanese coastline where oysters were produced. Most of the rafts were destroyed as well as the infrastructure set up to collect and process the oysters. Even more alarming was the nuclear reactor meltdown which contaminated the water around Japan, destroying much of the local seafood.
So what is the status of Japanese seafood now? The unit of measure for measuring radioactivity is a becquerel. In the United States the limit of acceptable radiation in seafood products is 1200 becquerels per kilogram. Japan, in order to reassure nervous consumers, has determined the limit of acceptable radiation in seafood products at only 100 becquerels per kilogram. Encouragingly, in the last year, only about 2 percent of samples have exceeded the Japanese limit compared to over 50 percent in the months following the disaster.
It has been three and half years since commercial fishing was banned in Japan. On September 25th, test commercial fishing began to determine if, in fact, the seafood supply meets the prescribed level of radioactivity. Things are looking up for the Japanese fisherman! Again, I don't sell Japanese seafood. But since Japan and the US west coast share the same ocean, US consumers need reassurance. I hope this helps.
This Week's Special
Mahi - $7.99 for a six-ounce portion.
While in Charleston I visited Cherry Point Seafood from which we get the short summer supply of mahi. Throughout the fall and winter, mahi swim in tight schools relatively close to shore in the southern Caribbean along the coast of Central and South America. Then, in March or April they start to spread out and swim north up the Gulf Stream. They swim right by Cherry Point Seafood in SC and often end up on our summertime grills.
Catch to Go
Lemon Caper Swordfish with Baked Squash and Zucchini (I was not a swordfish lover until I had this dish.)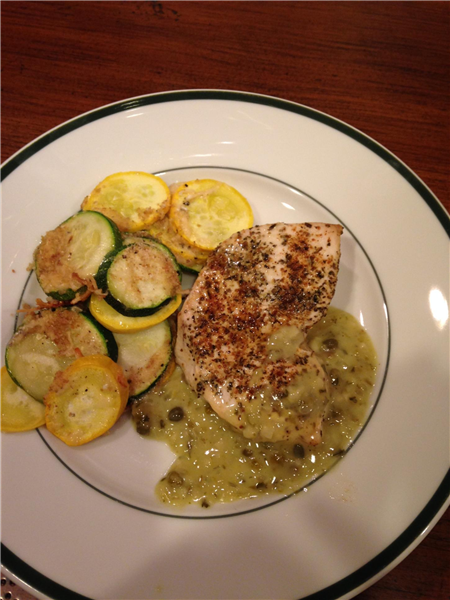 Charmoula Barramundi with Green Beans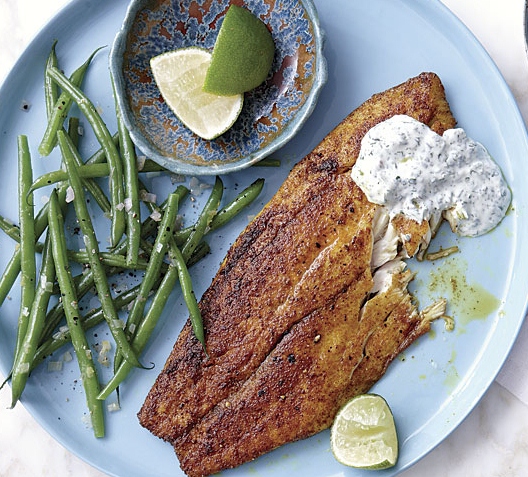 This Weekend's Oysters
Watchhouse from Virginia, 3", mild brininess, clean finish
Chunu from Virginia - 2 1/2", high brininess, sweet grassy finish
Hollywood from Maryland - 3", medium brininess, cucumber finish
Sewansecott from Virginia - 4", mild brininess, clean finish
James River from Virginia - 4", mild brininess, mild finish
Blue Point from New York - 4", high brininess, mild finish
Naked Cowboys from New York - 4", high brininess, mineral savory finish
Alpine from Canada - 3", high brininess, sweet finish
Beausoleil from New Brunswick - 2 1/2", mild brininess, sweet finish
Deep Cove from P.E.I. - 4", mild brininess, earthy buttery finish
Duxbury Bay - from Massachusetts - 3", high brininess, sweet buttery finish
What do you think was the very best thing I ate while I was in Charleston this week? Sashimi Tuna and Oysters at Cypress. A half dozen beausoleil oysters with a ginger-garlic glaze and pineapple wasabi. Heavenly. Maybe better than heavenly... if there is such a thing.
Crabs
Fresh King Crab - only $29.99/lb. Fresh never frozen! This is the ultimate in fast food!
Fresh Stone Crab - from Florida - get them while they last!
In the Discount Freezer
Buy One Get A Cheaper One Free (BYGCOF)
We've already marked these down 20% and now we are giving some away too!
Grab a few pieces to put in your freezer for those nights when you need something in a hurry. We don't have much of any one species but we have a great assortment!
Cobia, snapper, black bass, corvina, sheephead, pompano, rainbow trout, mahi, opah, branzino, Arctic char, cod, hake haddock, grouper, black drum, flounder, tuna, swordfish, pollack, scallops, catfish, striped bass, wreckfish, tilefish, amberjack, wahoo, monkfish and rockfish.
And Finally
My three grandkids are, just like all other kids, incredibly curious. We deal with a constant barrage of questions at my house: What's that? (two year old), Why? (three year old) and Why not? (nine year old). They are fiercely determined to understand what things are and why they are and why they aren't something else. It can just about drive a person crazy trying to keep up with all the questions!
Another little boy I know just celebrated his 5th birthday yesterday at Children's Healthcare of Atlanta. His name is Tommy and you can catch a quick glimpse of him near the end of this video. He's the one with the adorable curly head.
Tommy is kept alive by his mother's kidney and on his birthday he is recovering from a difficult surgery to correct some consequences of the kidney transplant. Tommy's story reminds me of the times we just don't have an answer to the whats and whys and why nots. But, in Tommy's case, there is a definite answer to the how. It's all in the cape, the cape that is the ferocity and determination of a child.
I'm inspired by fierce kids.
Kathleen